"Absolutely dazzling…in a word, flawless. Let's repeat that: flawless."    -New York Concert Review
"Absolutely dazzling…in a word, flawless. Let's repeat that: flawless."    -New York Concert Review
Grammy nominated Canadian-American pianist and conductor Kara Huber is quickly establishing herself as a celebrated member of the new class of concert pianists. Hailed as "absolutely dazzling…in a word, flawless" (New York Concert Review) in her Carnegie Hall debut, Ms. Huber combines the polish and warmth of an old-school soloist with the charisma and flair of the new generation of piano virtuosi.
Ms. Huber has performed across North America, Europe, and Australia, including lauded solo appearances at the Kennedy Center for the Performing Arts, the Piano Virtuoso Series at the Canadian Opera Company, the Rising Stars Piano Series in Southampton, New York and Steinway Series at the Smithsonian American Art Museum. An in-demand recitalist, Ms. Huber seeks to excite and delight diverse audiences through her creative and engaging programming.
On the orchestral stage, Ms. Huber's past seasons include appearances with the Louisville Orchestra, Oakville Symphony, Scarborough Philharmonic, and York Symphony Orchestra. She has worked under the baton of Charles Dutoit, Gerard Schwarz, Teddy Abrams, Denis Mastromonaco and Michael Roháč, in addition to a performance conducting and performing with the Canadian Chamber Orchestra.
Ms. Huber has received numerous prizes and awards for her performances, including the Audience Favorite Award in the Cincinnati World Piano Competition. She received training from the University of Cincinnati College-Conservatory of Music with Awadagin Pratt and The Glenn Gould School of The Royal Conservatory of Music with John Perry and Leon Fleisher. Dr. Huber recently completed a DMA in piano and conducting at the University of Cincinnati College-Conservatory of Music, taught at the University of Louisville School of Music, and is currently instructor of piano at the Interlochen Arts Academy.
"To hear such a fiendishly difficult program presented with such seemingly effortless polish, maturity, insight, grace, and stamina to burn leaves one simply dumbfounded…exhibiting fearless steadiness, riveting machine wrists, and charisma to boot"
"From the first note, Huber captivated the audience with astounding accuracy, elegant showmanship and a beautiful mastery of the 88 keys before her"
"Captivating stage presence"
"a young rising star…poised at the prelude to her career"
"[Plays] technical difficult solo passages with uncanny accuracy"
"Straight to disk with minimal edits…interpreted beautifully lucidly, with no wallowing or self-indulgence"
Let's play ball – on a piano keyboard
"tackling such formidable challenges with ease and panache"
Kara is happy to provide a complete press kit for publicity use. The press kit includes several publicity photos, as well as short and long biographies, all in one downloadable file.
For individual biographies and photos, please visit the corresponding Biography and Photos pages to download individual files.
February 16 - TRAVERSE CITY, MI - Solo Recital
Friday, February 16, 2024 at 7:30pm
Interlochen In Town at The Alluvian
414 East 8th Street, Second Floor
Traverse City, MI
February 18 - SAUGATUCK, MI - Solo Recital
Sunday, February 16, 2024
Hempy Keyboard Series
Saugatuck Center for the Arts
400 Culver Street
Saugatuck, MI
April 13 - ASHLAND, OH - Ashland Symphony Orchestra
Saturday, April 13, 2024 at 7:30pm
Amy Beach Piano Concerto with Ashland Symphony Orchestra
Michael Repper, conductor
Robert M. & Janet L. Archer Auditorium
1440 King Rd
Ashland, OH
March 4 - LOUISVILLE, KY - Louisville Orchestra
Saturday, March 4, 2023 at 7:30pm
March 12 - INTERLOCHEN, MI - Faculty Chamber Music Recital
Sunday, March 12 at 4pm EST
Dendrinos Chapel
Interlochen Center for the Arts
Interlochen, MI
Free, no ticket required
Information and Webcam
June 12 - FORT WAYNE, IN - Guest Artist Recital
June 19 - INTERLOCHEN, MI - Faculty Recital
Monday, June 19, 2023 at 6pm
Dendrinos Chapel and Recital Hall
Interlochen Center for the Arts
Interlochen, MI
Free and open to the public
July 6-7 - SAUGATUCK, MI - Chamber Music Festival of Saugatuck
Chamber Music Festival of Saugatuck
July 6-7, 2023
Saugatuck Woman's Club
303 Butler St., Saugatuck, MI
September 30 - DURANGO, CO - San Juan Symphony
Amy Beach Piano Concerto with San Juan Symphony
Thomas Heuser, conductor
Saturday, September 30, 2023 at 7:30pm
Community Concert Hall
1000 Rim Drive
Durango, CO
October 1 - FARMINGTON, NM - San Juan Symphony
Amy Beach Piano Concerto with San Juan Symphony
Thomas Heuser, conductor
Sunday, October 1, 2023 at 3pm
Henderson Performance Hall
4601 College Blvd
Farmington, NM
October 3 - DURANGO, CO - Women Composers Solo Recital
Tuesday, October 3, 2023 at 7pm
Roshong Recital Hall in Jones Hall
Fort Lewis College
1463 E 8th Ave
Durango, CO
November 5 - DAYTON, OH - Solo Recital
Sunday, November 5, 2023 at 3pm
Christ Episcopal Church
20 W. First St.
Dayton, OH
March 5 - PARIS, IL - Paris Center of Fine Arts
Saturday, March 5, 2022 at 7pm
Paris Center of Fine Arts
Paris, IL
March 23 - LOUISVILLE, KY - Brittany MacWilliams and Kara Huber
Wednesday, March 23, 2022 at 8pm
Comstock Hall, University of Louisville
Louisville, KY
April 21 - LOUISVILLE, KY - NouLou Chamber Players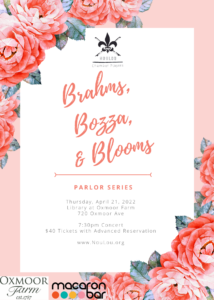 Thursday, April 21, 2022 at 7:30pm
NouLou Chamber Players
Oxmoor Farm, 720 Oxmoor Ave.
Louisville, KY
March 13/14 - LOUISVILLE, KY - Louisville Orchestra
Louisville Orchestra – FANTASTIQUE
Friday, May 13, 2022 at 11am
Saturday, May 14, 2022 at 8pm
June 22 - INTERLOCHEN, MI - Solo Recital
Wednesday, June 22, 2022 at 8pm
Interlochen Center for the Arts
Dendrinos Chapel
November 25 - TORONTO, ON - Etobicoke Philharmonic
Etobicoke Philharmonic Orchestra – Rachmaninoff 2nd Concerto
Friday, November 25, 2022 at 8pm
The Auditorium – Martingtove Cl
50 Winterton Drive
Toronto, ON Canada
February 7 - CINCINNATI, OH - Recital with Andrew Hull, Guitar
Recital with Andrew Hull, Guitar
Friday, February 7, 2020 at 7 pm
Knox Church
3400 Michigan Ave.
Cincinnati, OH
Admission by donation
February 15 - CINCINNATI, OH - Ravel Concerto pour la main gauche
Ravel Concerto pour la main gauche
CCM Philharmonia
Louis Langrée, conductor
Mark Gibson, music director
Saturday, February 15, 2020 at 7:30pm
Corbett Auditorium
Cincinnati, OH
Click here for tickets
March 25 - CINCINNATI, OH - Chamber Recital with Panoply Quintet *CANCELLED due to COVID-19
Chamber Recital with Panoply Quintet
Wednesday, March 25, 2020 at 6:45pm
Werner Recital Hall
University of Cincinnati College-Conservatory of Music
Cincinnati, OH
April 6 - CINCINNATI, OH - Midwest Chamber Orchestra *CANCELLED due to COVID-19
Midwest Chamber Orchestra
Kara Huber, conductor and pianist
Monday, April 6, 2020 at 6:45pm
Patricia Corbett Theater
University of Cincinnati College-Conservatory of Music
Cincinnati, OH
May 6-18 - China Tour *CANCELLED due to COVID-19
May 25 - TORONTO, ON - Associates of the Toronto Symphony Orchestra *CANCELLED due to COVID-19
Augmented 6ix/5' – Marvellous Woodwinds
BKelly Zimba (flute), Hugo Lee (oboe), Miles Jaques (clarinet), Nicholas Hartman (horn), Darren Hicks (bassoon), Kara Huber (piano)
May 25, 2020 at 7:30pm
427 Bloor Street West, Toronto, ON
Tickets starting at $23 
https://associates-tso.org/
June 18-20 - PORTLAND, OR - New Music Gathering *CANCELLED due to COVID-19
New Music Gathering
June 18-20, 2020
Portland, OR
June 27 - OURAY, CO - Wright Opera House *CANCELLED due to COVID-19
Solo Recital
Saturday, June 27, 2020 at 7pm
Wright Opera House
Ouray, CO
September 18 - KANSAS CITY, MO - Charlotte House Series *CANCELLED due to COVID-19
November 13 - VANCOUVER, BC - Out for Lunch Series *CANCELLED due to COVID-19
Out for Lunch Series – Solo Piano Concert
Friday, November 13, 2020 at 12pm
Vancouver Art Gallery
Vancouver, BC
November 19 - VANCOUVER, BC - Silk Purse Arts Center *CANCELLED due to COVID-19
Silk Purse Arts Center
Vancouver, BC
November 20 - VANCOUVER, BC - Out for Lunch Series with Vancouver String Quartet *CANCELLED due to COVID-19
Out for Lunch Series with Vancouver String Quartet
Friday, November 20, 2020 at 12pm
Vancouver Art Gallery
Vancouver, BC
November 27 - TORONTO, ON - Etobicoke Philharmonic Orchestra *CANCELLED due to COVID-19
March 2 - TORONTO, ON - Rhapsody in Blue with NYCO
Rhapsody in Blue with North York Concert Orchestra
Saturday, March 2, 2019 at 8pm
Yorkminster Citadel, 1 Lord Seaton Rd.
Toronto, ON
March 23 - CINCINNATI, OH - Cincinnati Soundbox Solo Soundbox: Piano
Saturday, March 23, 2019 at 7pm
Unitarian Universalist Church
Cincinnati, OH
May 21 - WASHINGTON, DC - Tuesday Concert Series
The Church of the Epiphany
Tuesday, May 21, 2019 at 12:10pm
1317 G St. NW, Washington, DC
July 6-11 - LAGRASSE, FRANCE - En Blanc et Noir
July 6-11, 2019
Lagrasse, France
November 9 - SOUTHAMPTON, NY - Rising Stars Piano Series
November 18-19 - ODESSA, TX - Odessa College Residency
Solo Concert
Monday, November 18, 2019
Masterclass and Q&A
Tuesday, November 19, 2019
11:30am-1pm